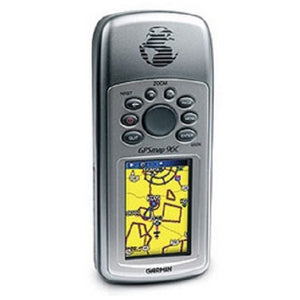 Authorized Dealer
No Warranty

The portable color GPSMAP 96C along with the grayscale GPSMAP 96 combine a pilot-friendly operating system with powerful navigation features and great value — giving you the freedom to go anywhere.

Enhance Situational Awareness
GPSMAP 96C offers a built-in Jeppesen® database and a U.S. database of obstacles, for the ultimate in situational awareness. View Jeppesen airport data overlaid on a map and receive alerts when potential obstacles loom ahead. In addition, the 96C shows localizer-like runway extensions and graphic HSI steering with GPS-derived VNAV for added orientation.

View Images in Sharp Detail
GPSMAP 96C features a bright sunlight-readable color display that makes map detail easy to read. Its simple keypad and streamlined design literally put the world of GPS capability in the palm of your hand.

Automate Your Logbook
A built-in logbook tracks your flying hours and automatically records departure and arrival locations. When used with Garmin's free logbook software, FlightBook, you can simplify your record keeping by creating, managing, analyzing, saving and printing flight data from the GPSMAP 96C's logbook.

Navigate by Air, Land or Sea
GPSMAP 96C's three navigation modes and built-in autorouting basemap let you go from plane to car to boat to hiking boots without missing a beat. With 119 megabytes of memory and a mini USB port, you can quickly download and store map data from a variety of optional MapSource® products. Add detailed street maps for street navigation. Or, for a great day on the water, customize the water resistant 96C with marine cartography. The 96C also operates on 2 AA batteries, making it easy to use on foot.
Specifications:
https://www.garmin.com/en-US/p/277#specs

In The Box:

GPSMAP 96C
One basemap below:
MapSource® Trip & Waypoint Manager software
Yoke mount
Wrist strap
USB cable
12-volt adapter
Two AA batteries
Owner's manual
Quick reference guide